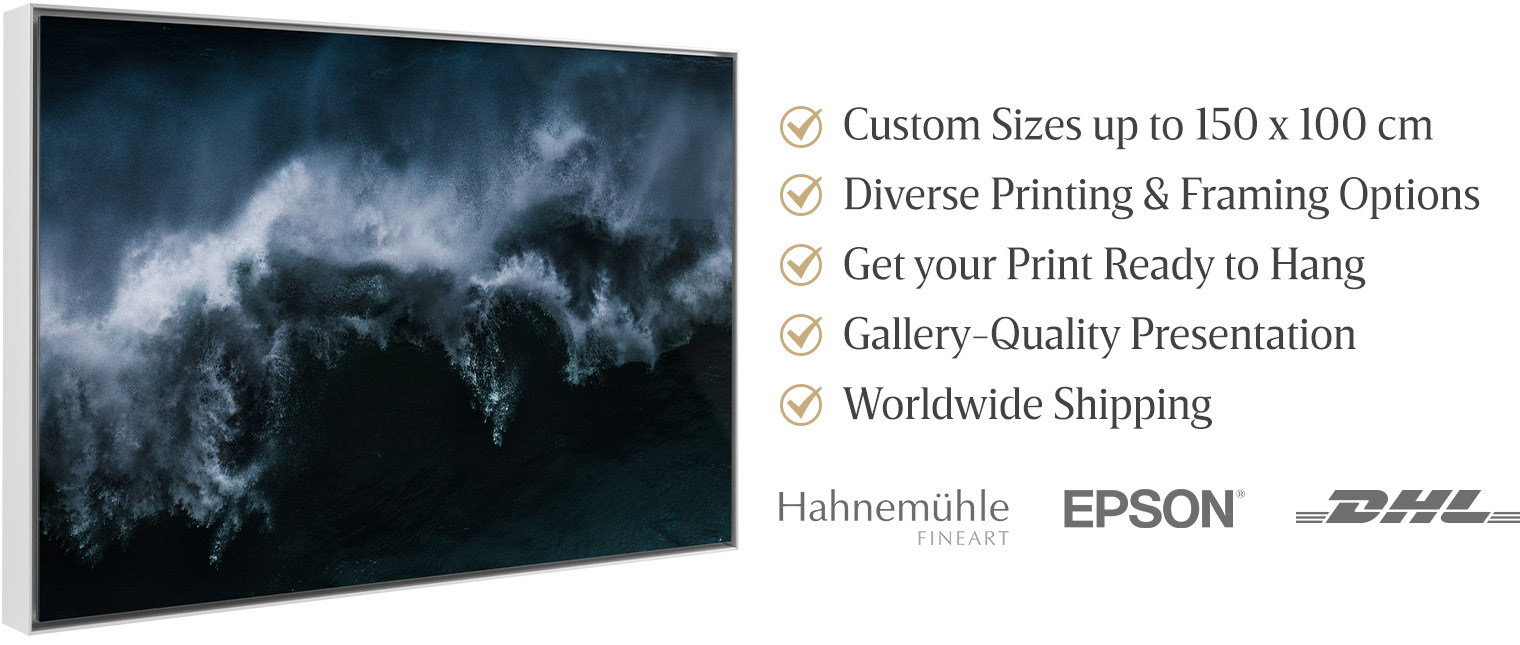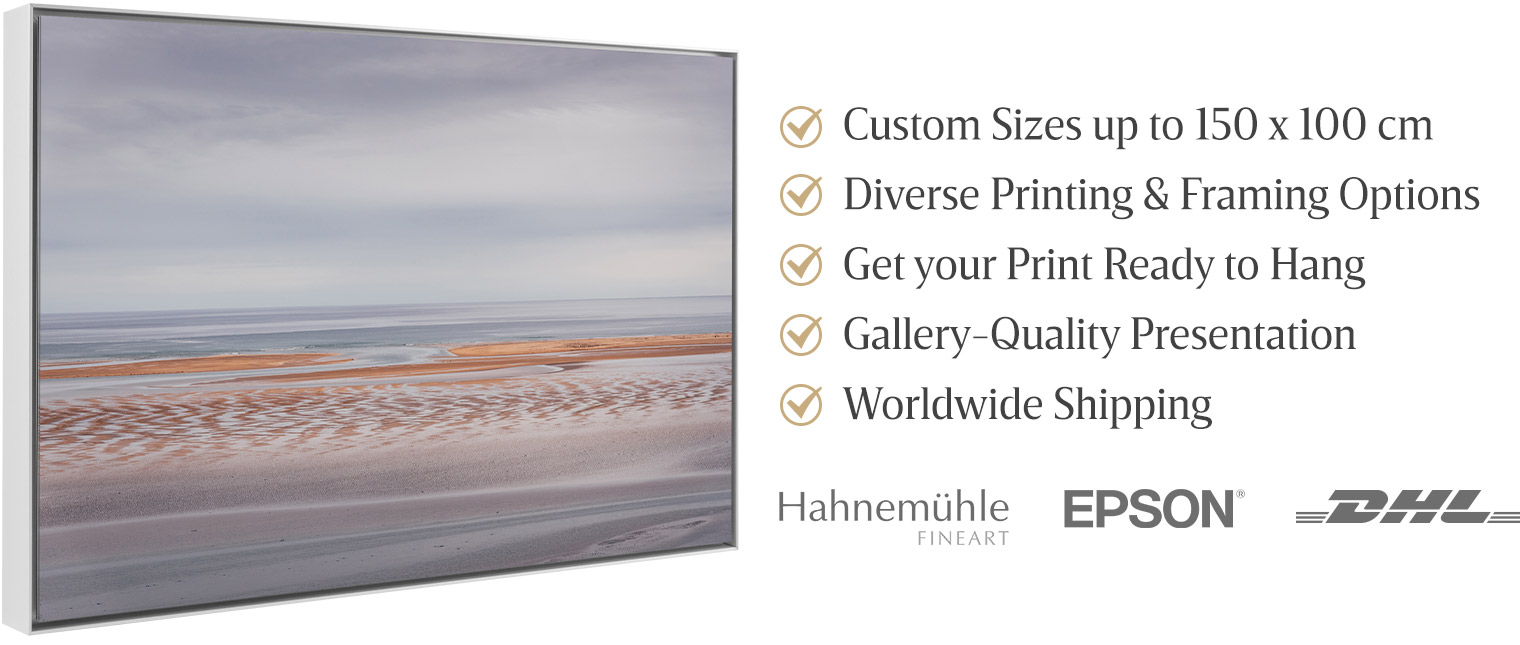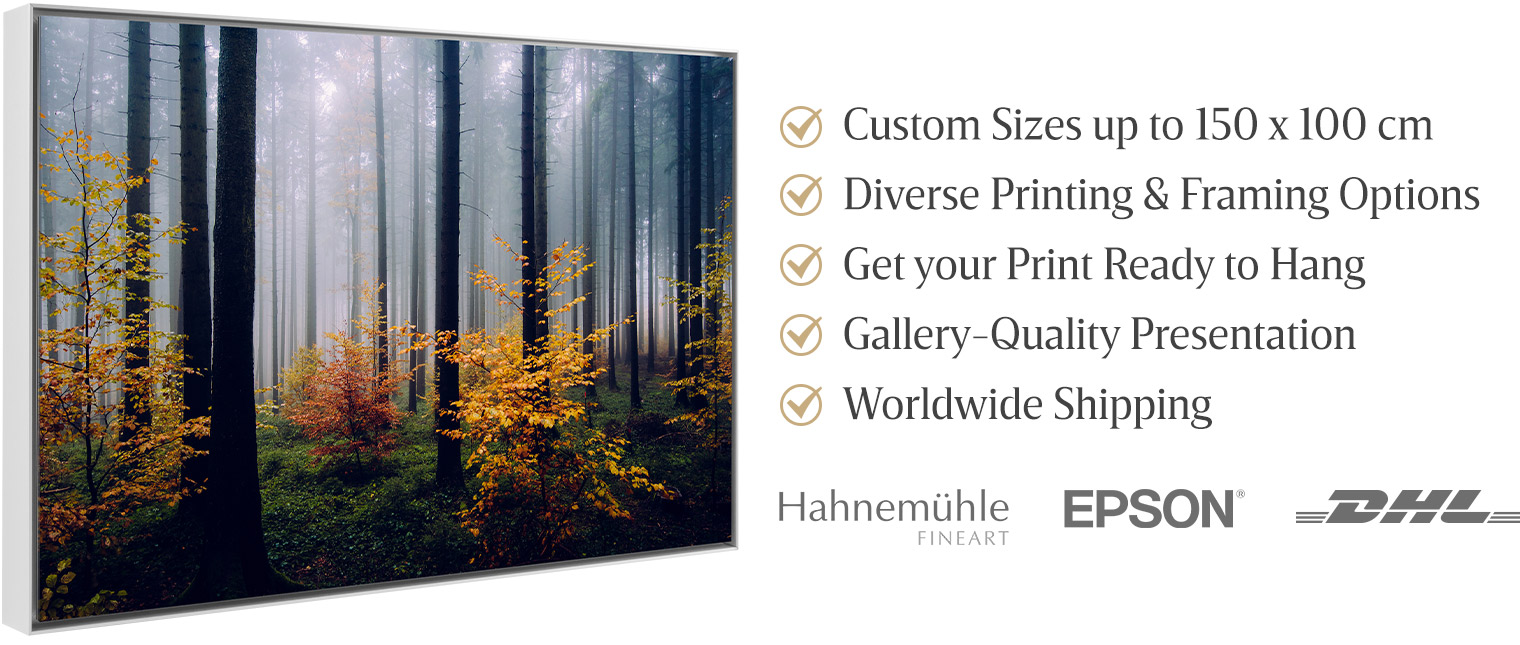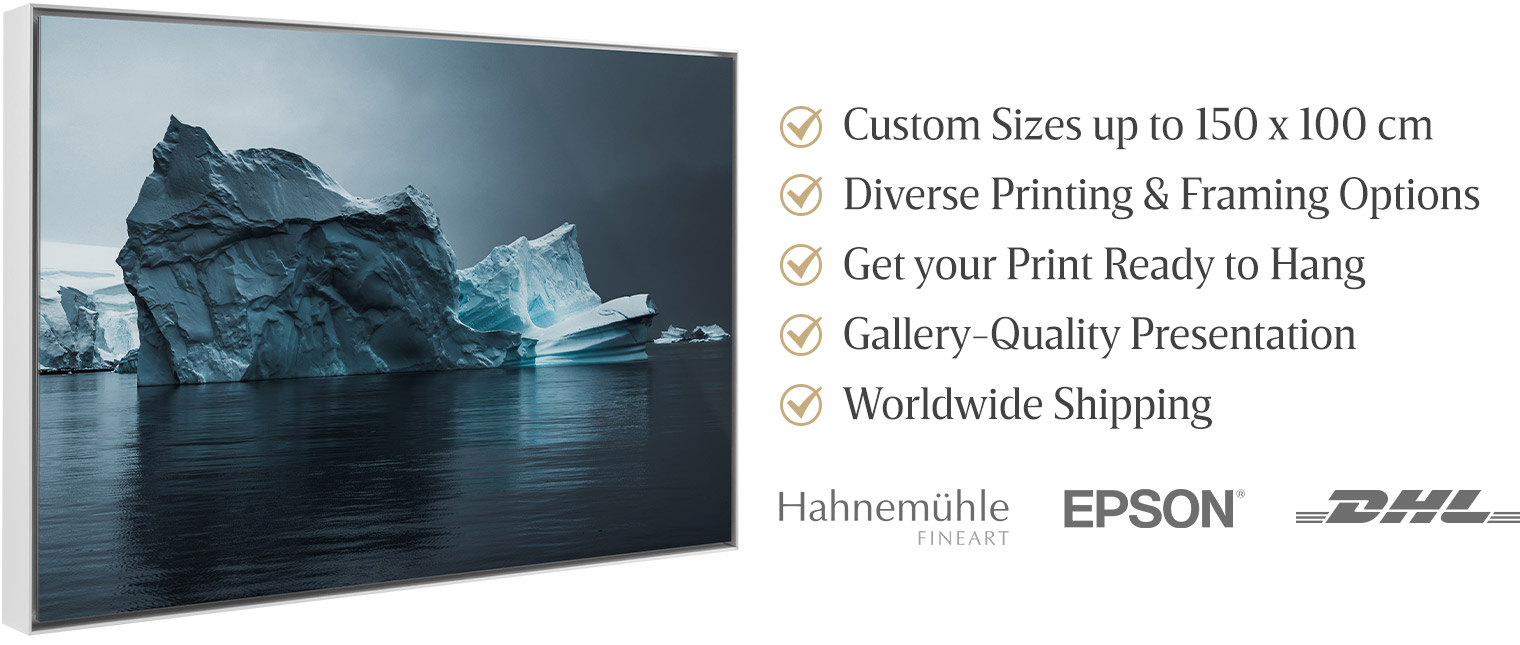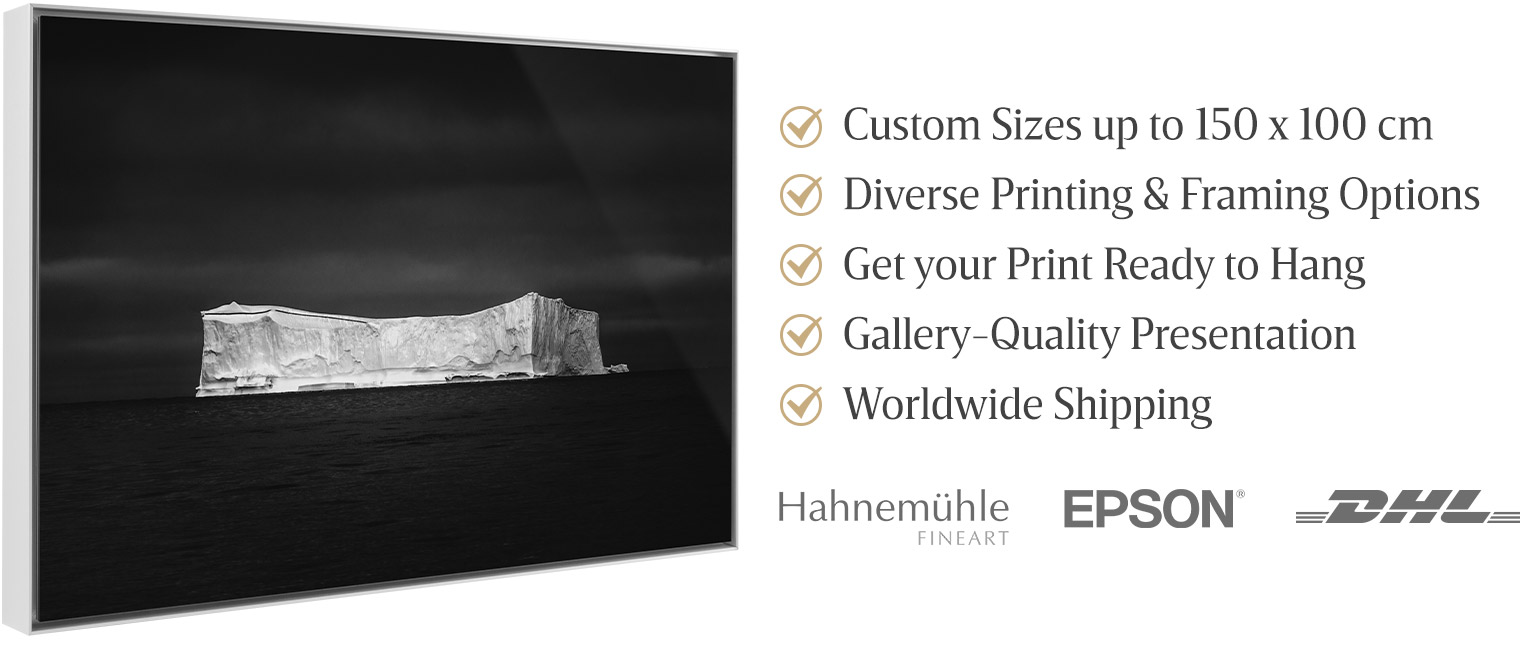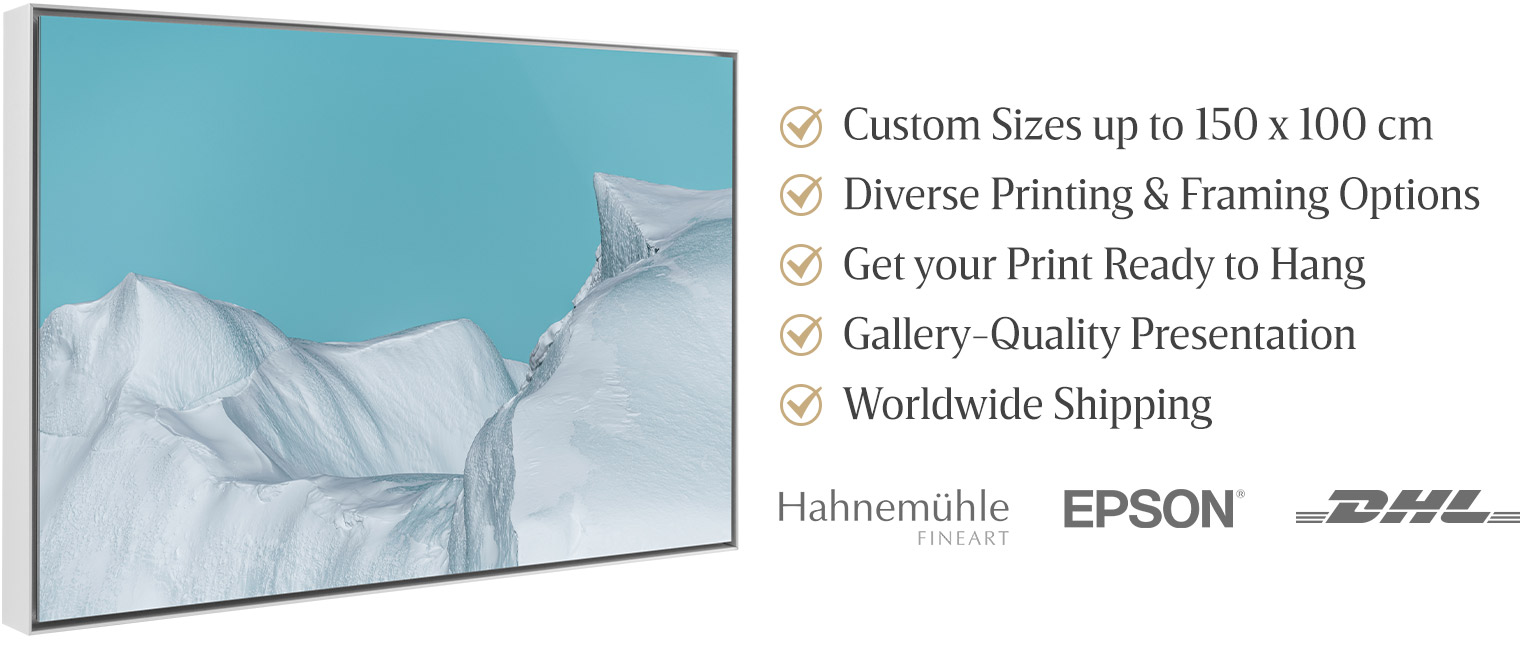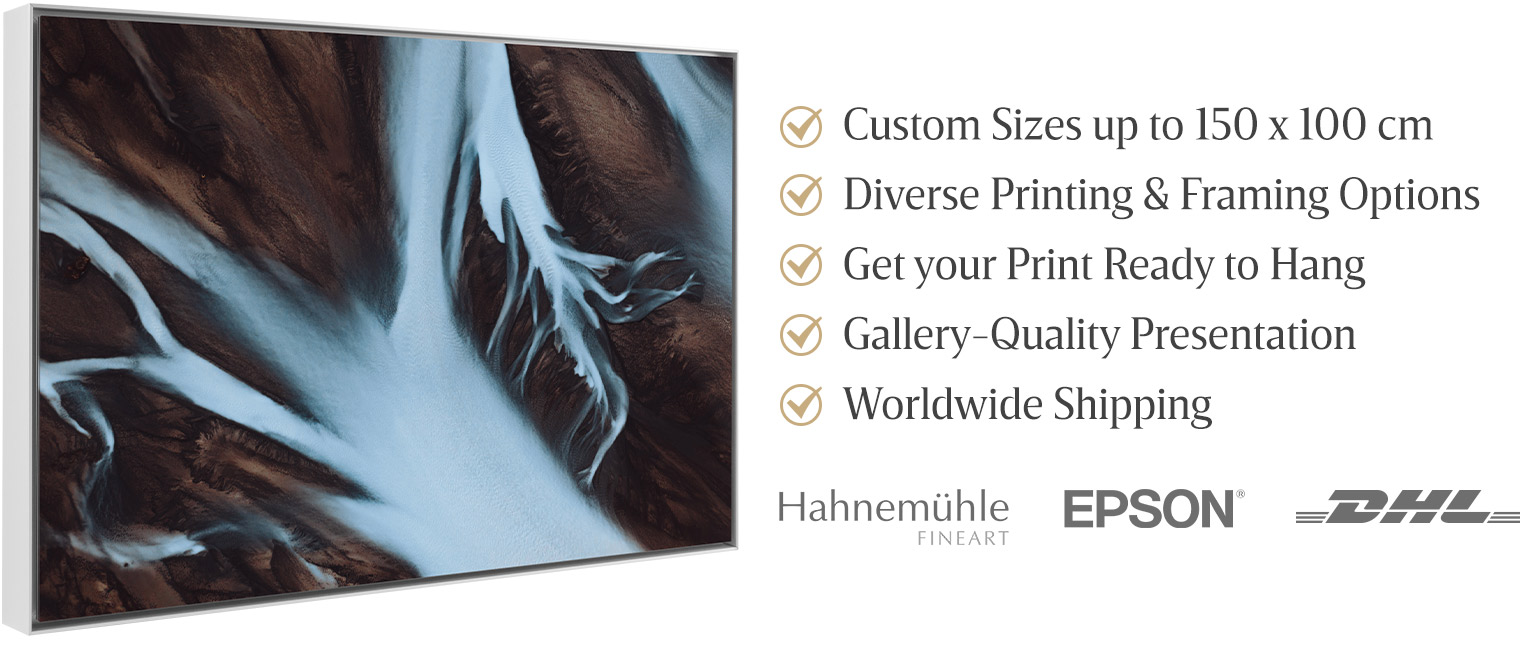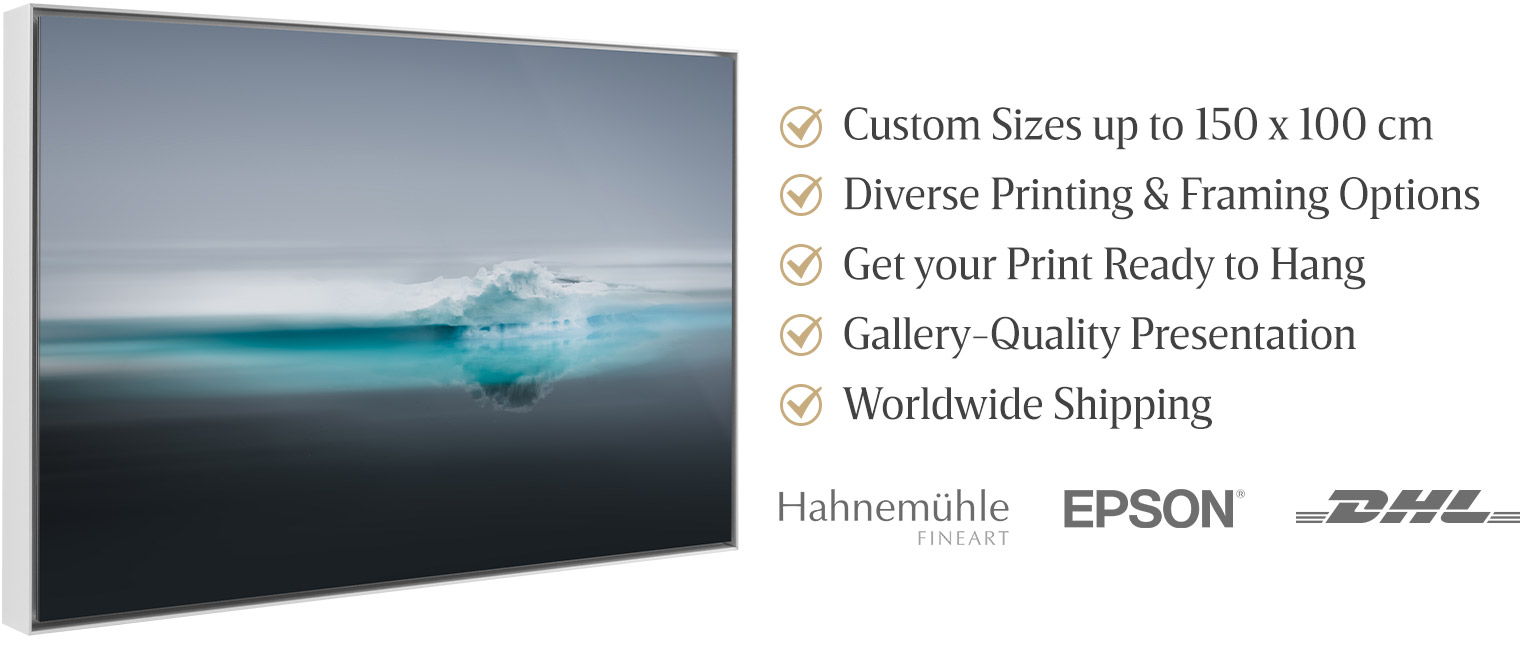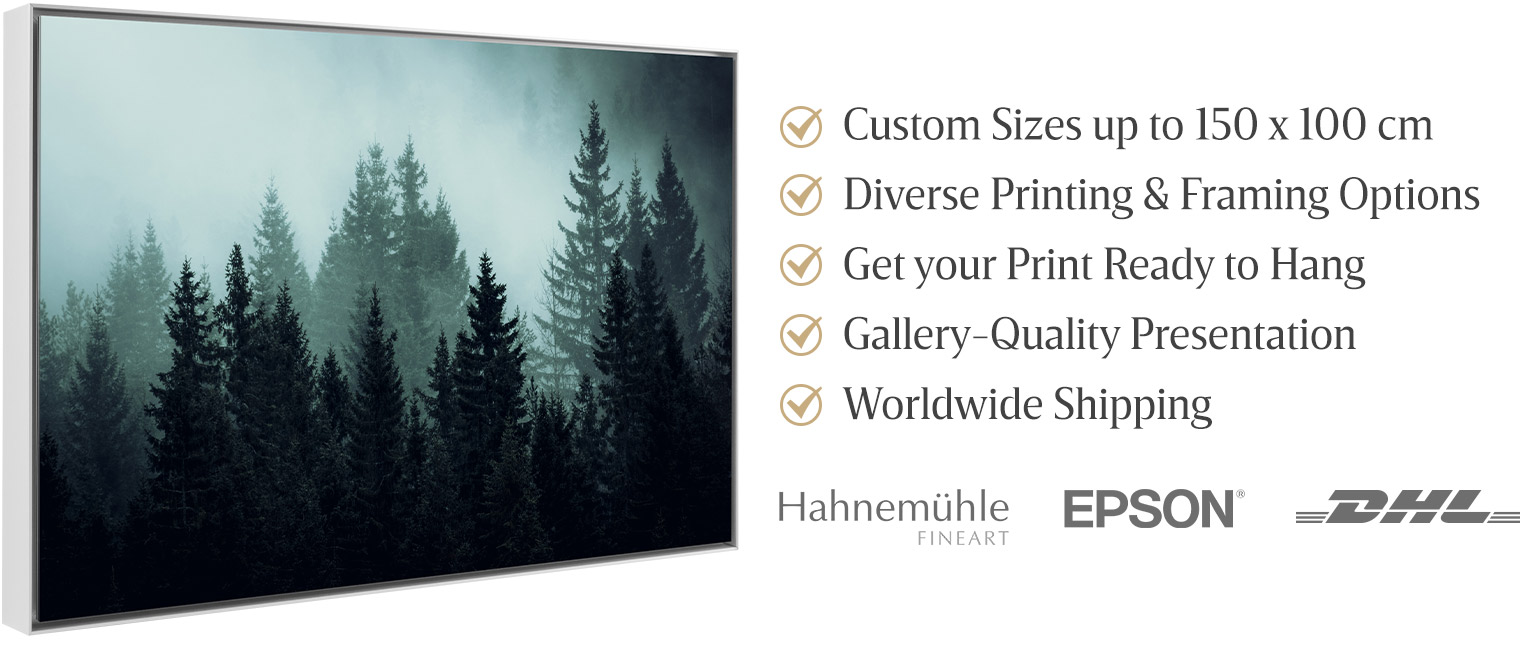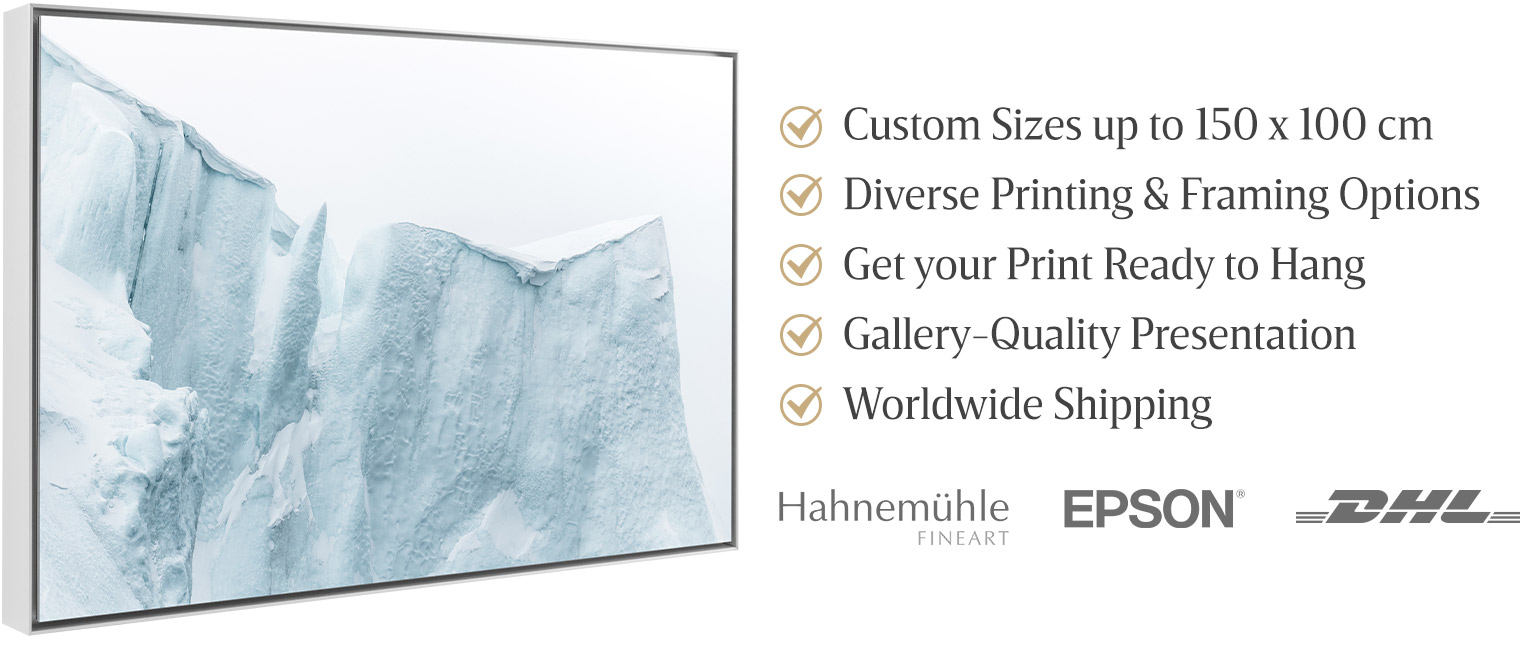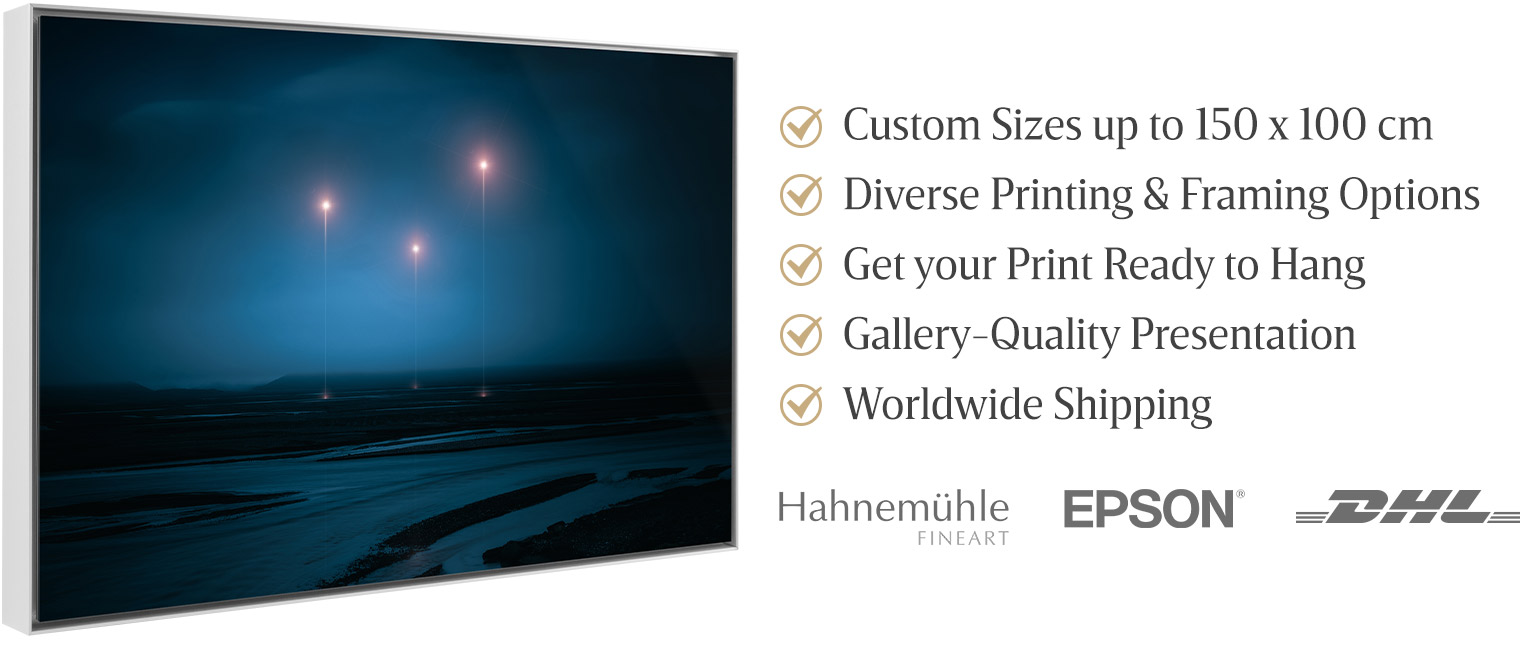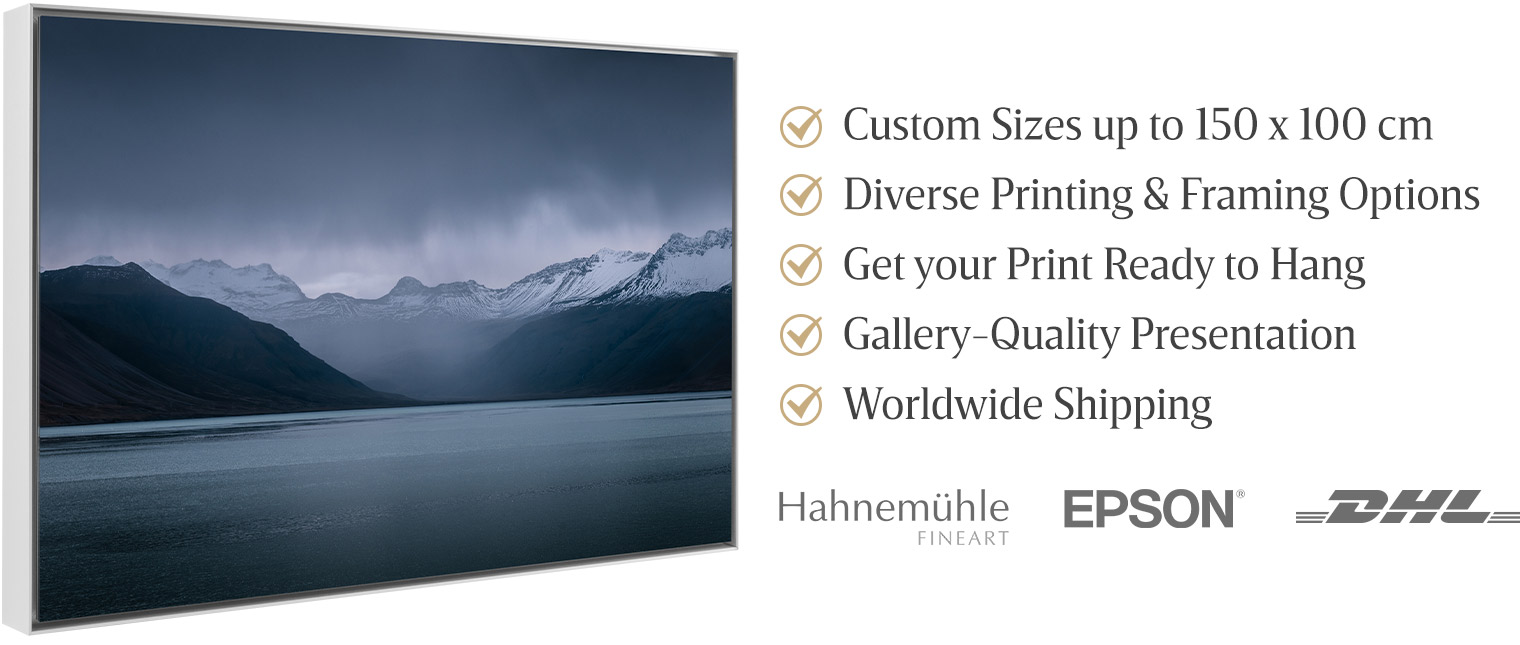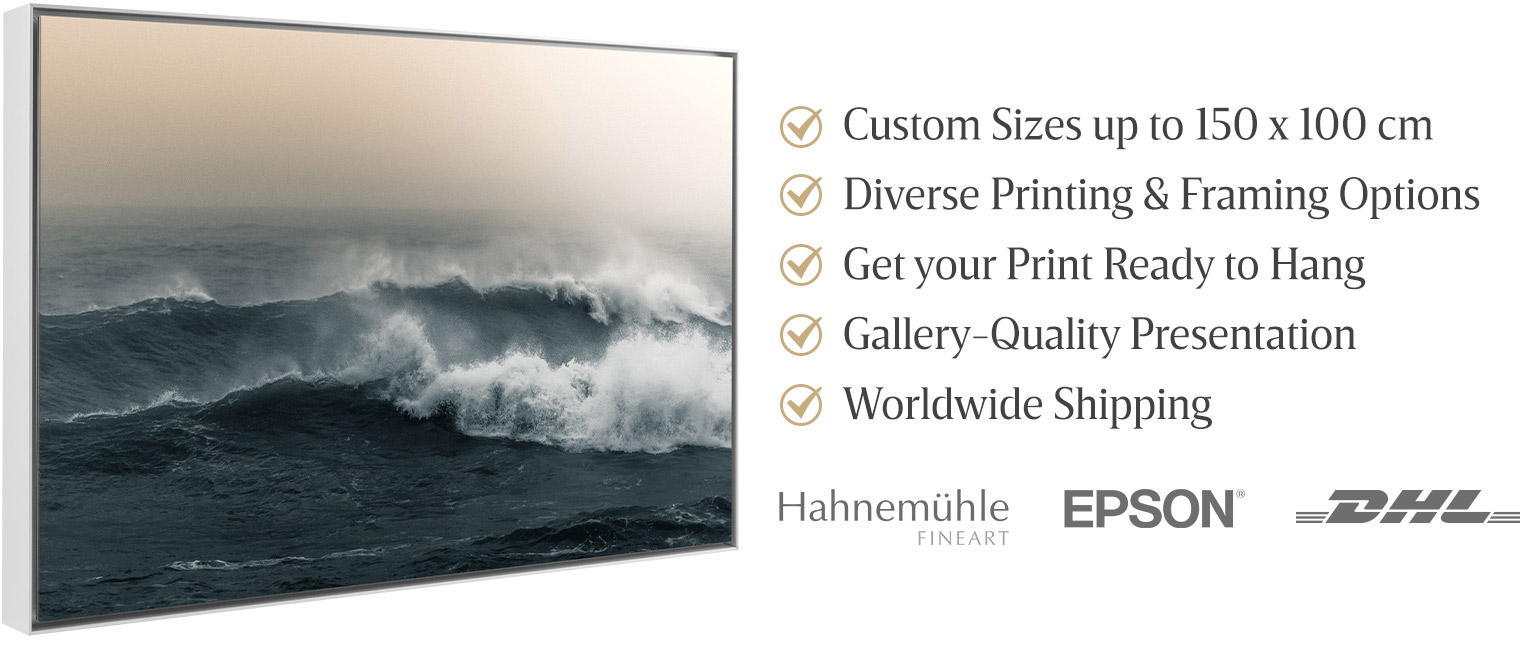 Printing Materials
Hahnemühle Fine Art Paper Print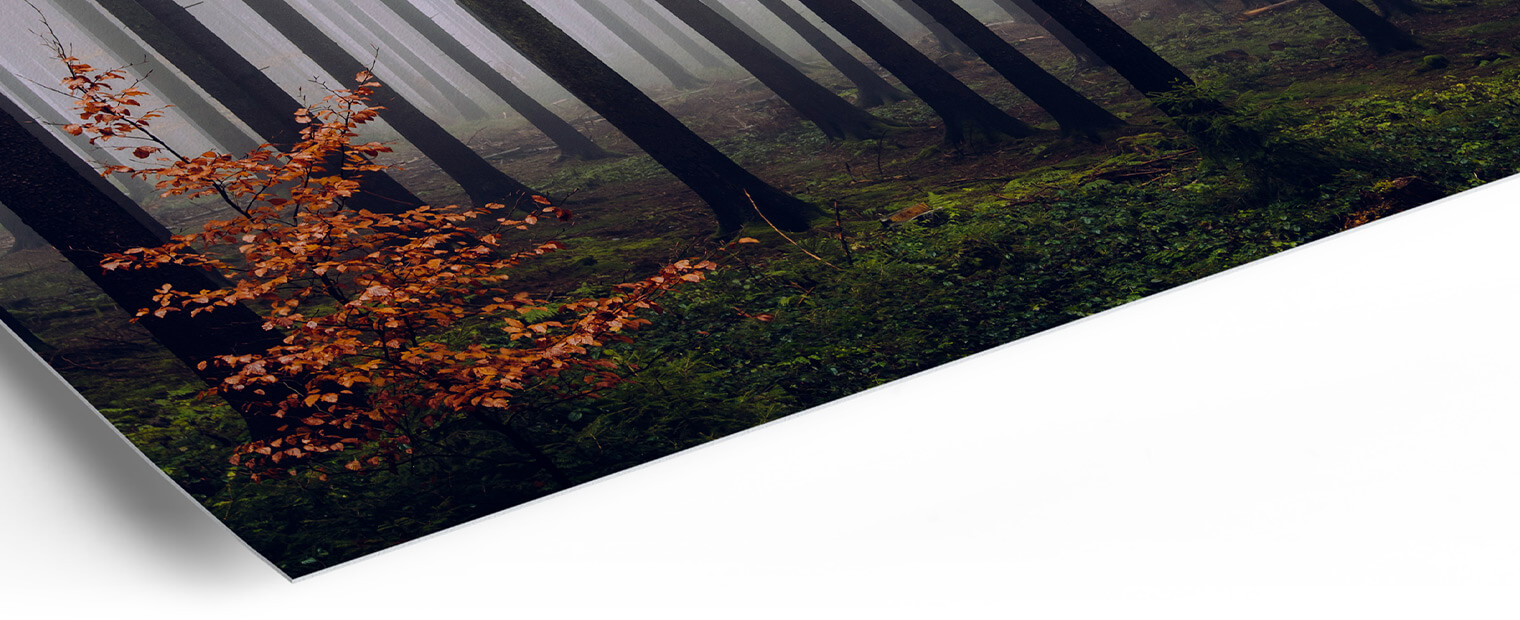 Hahnemühle's Photo Rag Paper (308 g/m²) is considered an absolute premium product in the art industry and is often used for large exhibitions. Each picture is printed using only high quality Epson UltraChrome K3 pigment inks. The paper is made from 100% cotton rag and has a rated opacity of 99% and a smooth surface structure. To ensure archival standards, the paper is calcium carbonate buffered and acid-free. These quality standards guarantee that you can enjoy your print for many decades to come.
Pricing examples (incl. worldwide shipping):
12 x 18" (30 x 45cm) – $95
16 x 24" (40 x 60cm) – $165
24 x 36" (60 x 90cm) – $265
48 x 32" (100 x 150cm) – $425
Prints on Hahnemühle fine art paper will be shipped rolled inside a protective tube to ensure safe delivery. A white border of 1" (2.5 cm) is left around all prints to facilitate different framing options.
Print on Aluminum Dibond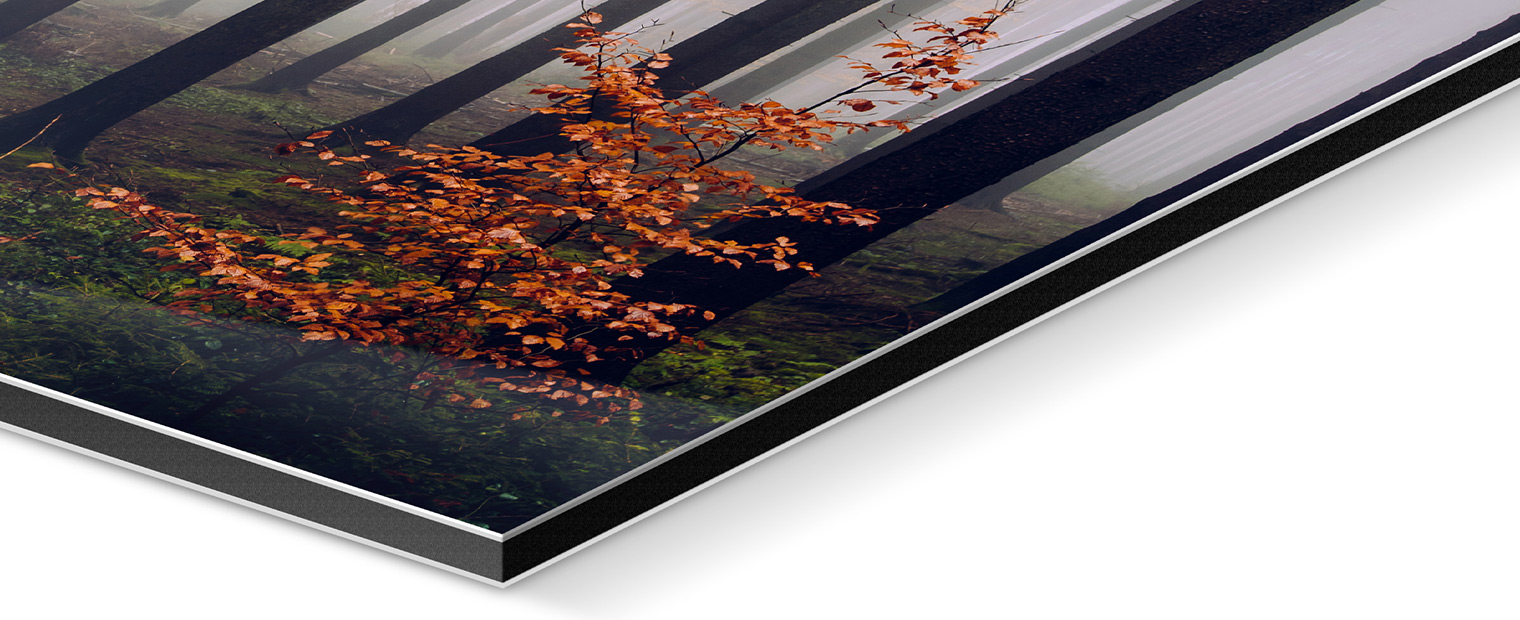 Without glazing, a photo print on Aluminium Dibond has a very purist and timeless look. Aluminium Dibond is a 3 mm thick composite material with three layers. Two white coated aluminium plates enclose a polyethylene core in black colour, which can also be seen from the side. The material is extremely robust and at the same time light in weight, making it ideal for large-format parts. The high-quality photo print is laminated with a very thin film for protection and applied to the aluminium dibond without any bubbles.
Prints on Aluminium Dibond always arrive ready to hang and can be further enhanced with a high-quality wood or aluminium frame.
Print under Acrylic Glass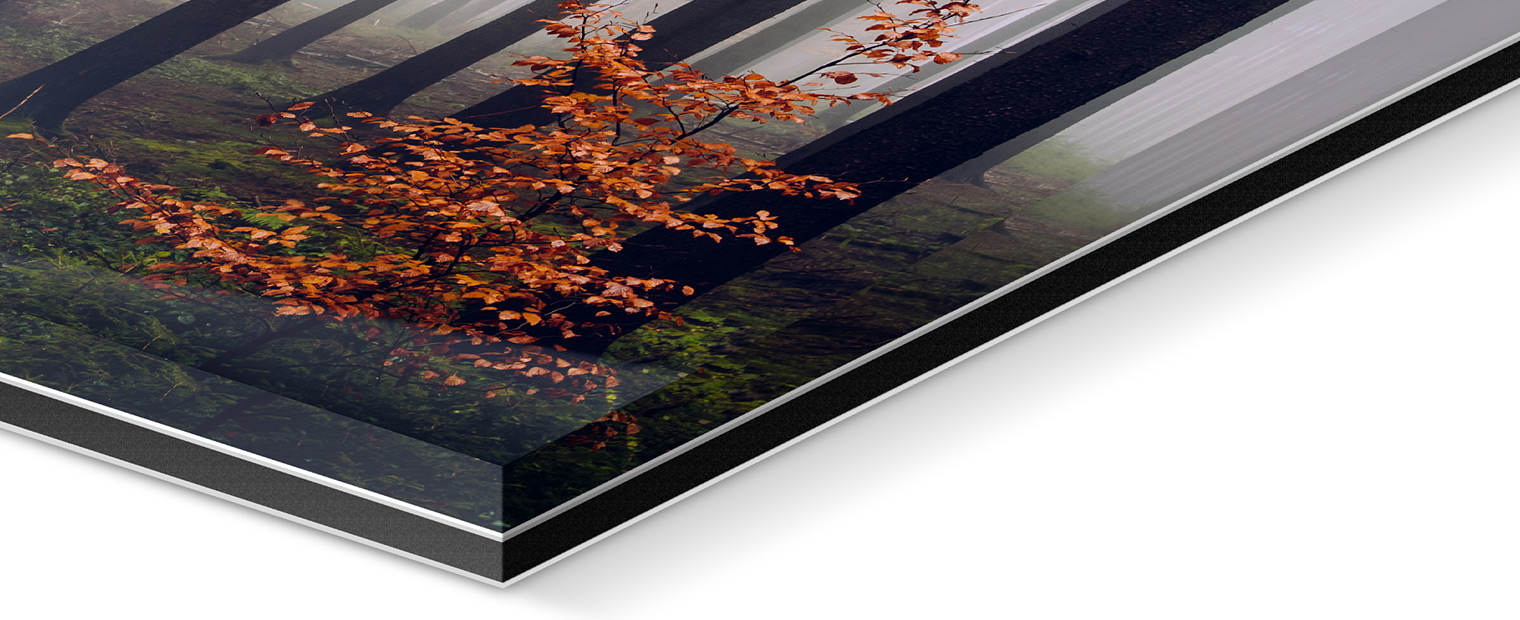 Acrylic Glass prints with an aluminium dibond back are very sturdy and offer gallery-quality appeal. The timeless effect of the photos on glossy acrylic glass is perfect for fine art photography and meets the highest professional demands. Acrylic glass is light, shatterproof and resistant to temperature fluctuations. The acrylic glass with a thickness of 4 mm enhances the properties of a photo print, emphasizing the vivid colors and enhancing the impression of depth.
Prints under Acrylic Glass always arrive ready to hang and can be further enhanced with a high-quality wood or aluminium frame.

A GalleryBox frame is made of high-quality glazed aluminium in black or silver and turns the photo into a sculptural object. The small gap between the picture and the aluminium frame is simple but effective and makes the picture appear to be floating.
A professional wall-mount is included and the print comes ready to hang.

The wooden GalleryBox frames the photo subtly when viewed from the front, but reveals an impressive depth (35 mm) when viewed from the side. The solid wood gives the picture a natural look and you can choose from four different colors: White Maple, Natural Maple, Brown Alder or Black Oak:

The frame always comes ready to hang with a milled groove on the back, which is both practical and elegant.
Payment and Shipping
Shipping is available worldwide. Delivery times will of course vary depending on your location, but most orders arrive within 14 days. All prints are carefully checked before shipping to maintain quality. I accept secure electronic payment from all major credit cards (VISA, MasterCard and American Express) using PayPal, as well as bank transfers from European countries via IBAN.

More Inspiration