»Elements LUT Pack« by FCPX Studio and Northlandscapes
15 professional and versatile LUTs for your next video project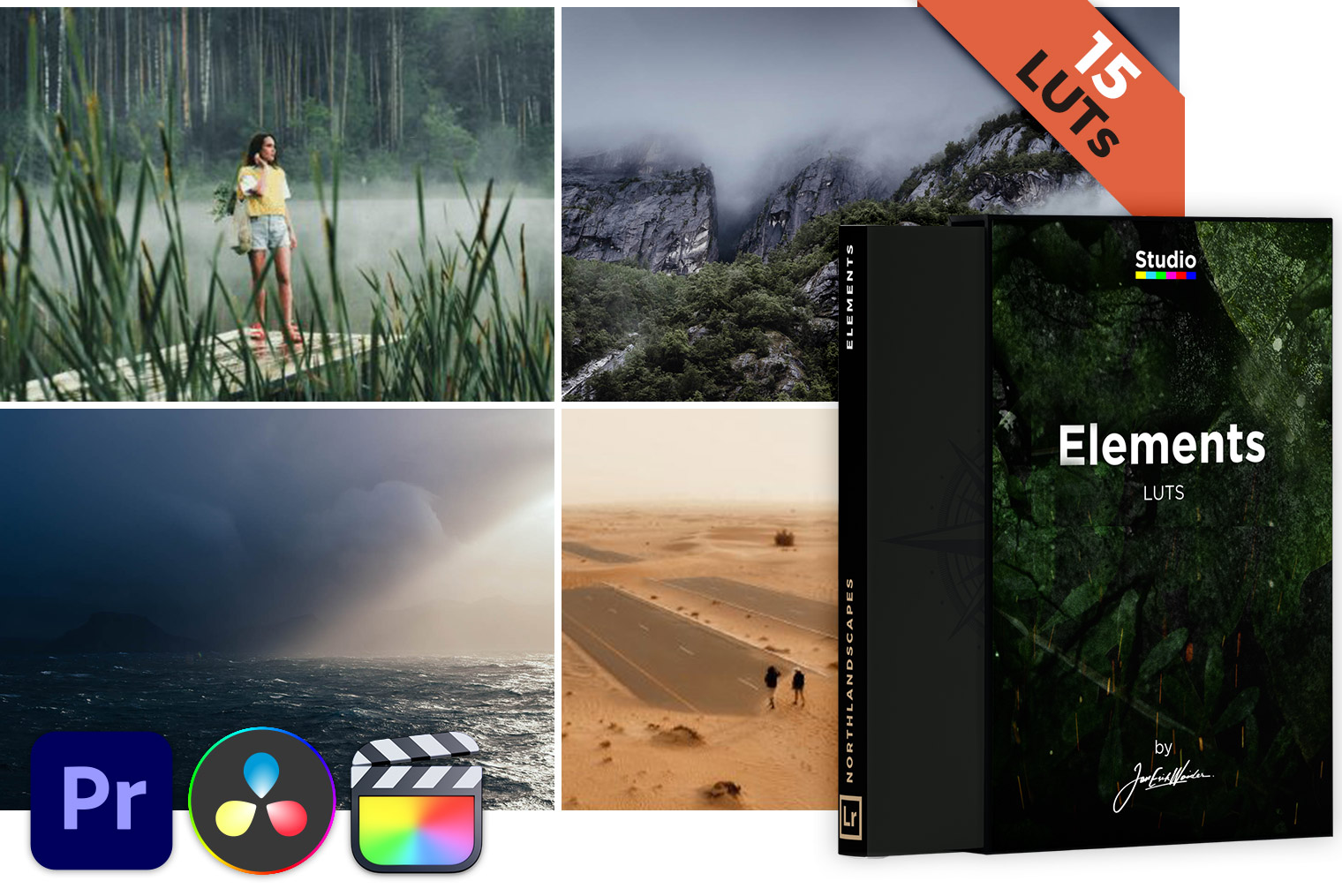 Working closely with FCPX Studio, I've created a versatile and flexible travel and landscape LUT Pack called "Elements" for your next video project, inspired by my moody photography style. Each of the 15 LUTs has been thoroughly tested on hundreds of clips and in all possible scenarios.

You can use the LUTs for your short films, sports videos, VLogs... It harmonizes your footage and gives your video a unique look.
What is a LUT?
A LUT, or Look-Up Table, is a sequence of mathematical instructions that modify the properties of the image pixels (hue, saturation, brightness…). These instruction sequences are unique to each LUT: that's what gives them their amazing look! LUTs are in .CUBE or .3DL files.

They are compatible with most editing software like Final Cut Pro, Adobe Premiere Pro and DaVinci.
Overview of all 15 LUTs
Each LUT has been thoroughly tested on hundreds of clips and in all possible scenarios.














How to buy?
You can purchase and download the "Elements LUT Pack" via Gumroad, a secure marketplace for digital products. Gumroad accepts Paypal and all major credit cards.
By purchasing the video LUTs you agree to my return & refund policy.

*For European customers: According to the EU VAT rules on digital products, private individuals must pay Value Added Tax (VAT) based on the country where they are located. Companies with a valid VAT identification number can enter it at checkout and the purchase will be VAT free.
More about the creator of the LUTs

My name is Jan, and I'm a visual artist and fine art photographer based in Hamburg. My work focuses on atmospheric and abstract landscape photography of the distant North: Norway, Iceland, Greenland and beyond. Read more about me, discover my fine art and landscape series or learn about my coaching services for photographers.
Connect with me on
Looking for Lightroom Presets?
Discover all of my free and premium Lightroom preset packs for landscape, aerial and travel photography.
See all Products Get the Complete Shop Bundle